Kids With A Cause reviewed the We All Need Clean Water box partnered with charity: water in their latest blog post. Check it out to get a closer look at these fun hands-on activities for kids.
We All Need Clean Water
Originally published on Kids With A Cause on July 10, 2022
If you haven't read our other post about this amazing subscription box company called Alltruists that sends gorgeously-designed kits that help kids learn about important issues in the world, you can find it here (the first project we did helped my kids learn the importance of bees).  
The latest kit we tried is the "We All Need Clean Water" project, and it's designed to teach kids how water doesn't come as easily to everyone around the world as it does for us (even here in SoCal where there's an extreme drought). 
Here's what was included: 
- 5 mini books  
- Egg timer for using when you brush teeth/shower
- Water purification packers
- Mini pipe pieces for making a mini water pipe system
- Personal water filter straw
- Pledge card
- Sticker sheet with reminder stickers about conserving water (to place near bathroom sinks, etc). 
Along with the mini books that taught Hannah all about how scarce water is in some parts of the world, shared stories of kids dealing with water scarcity, and showed how water systems work (she had never really thought about where the water from our faucet actually comes from), there were also a few fun activities that helped make the subject interesting—even on Summer Vacation when endless TV time and the back yard swing was there to compete. 
For one, she got to drink DIRTY WATER. At least, water that looked dirty. 
Here's how: First she learned that some people in the world don't have access to clean water... and how that's not safe for them. Then, she learned what can be done to help. The first water-cleaning method demonstrated how chemicals can treat the dirty water and separate out the yucky stuff (there were packets of these chemicals in the box for us to try—and we did "clean" some dirty water—but to be honest, I was too nervous to let Hannah drink a cup of this). 
The second water-cleaning method we tried (also included in the kit) was the personal straw filter, which lets people drink water from anywhere with the help of a straw made to block out the gross or dangerous stuff. 
To try it out, she poured a cup of water and threw a handful of dirt in it. Then, she plunked the personal water filter straw into the cup and took a few sips. It was more like a dare than anything else (and a little hard for this worrywart mom to watch), but it was definitely the highlight of Hannah's day.   
Another thing that amazed us to learn was just how much water we use. Using the worksheet included, we calculated our water consumption (by indicating how many times we do things like brushing teeth, washing hands, flushing toilets, doing laundry, dishwashing, etc.). We learned that our family of five probably use about 150 gallons of water EVERY DAY. That's about as big as four bathtubs filled with water. Embarrassing!!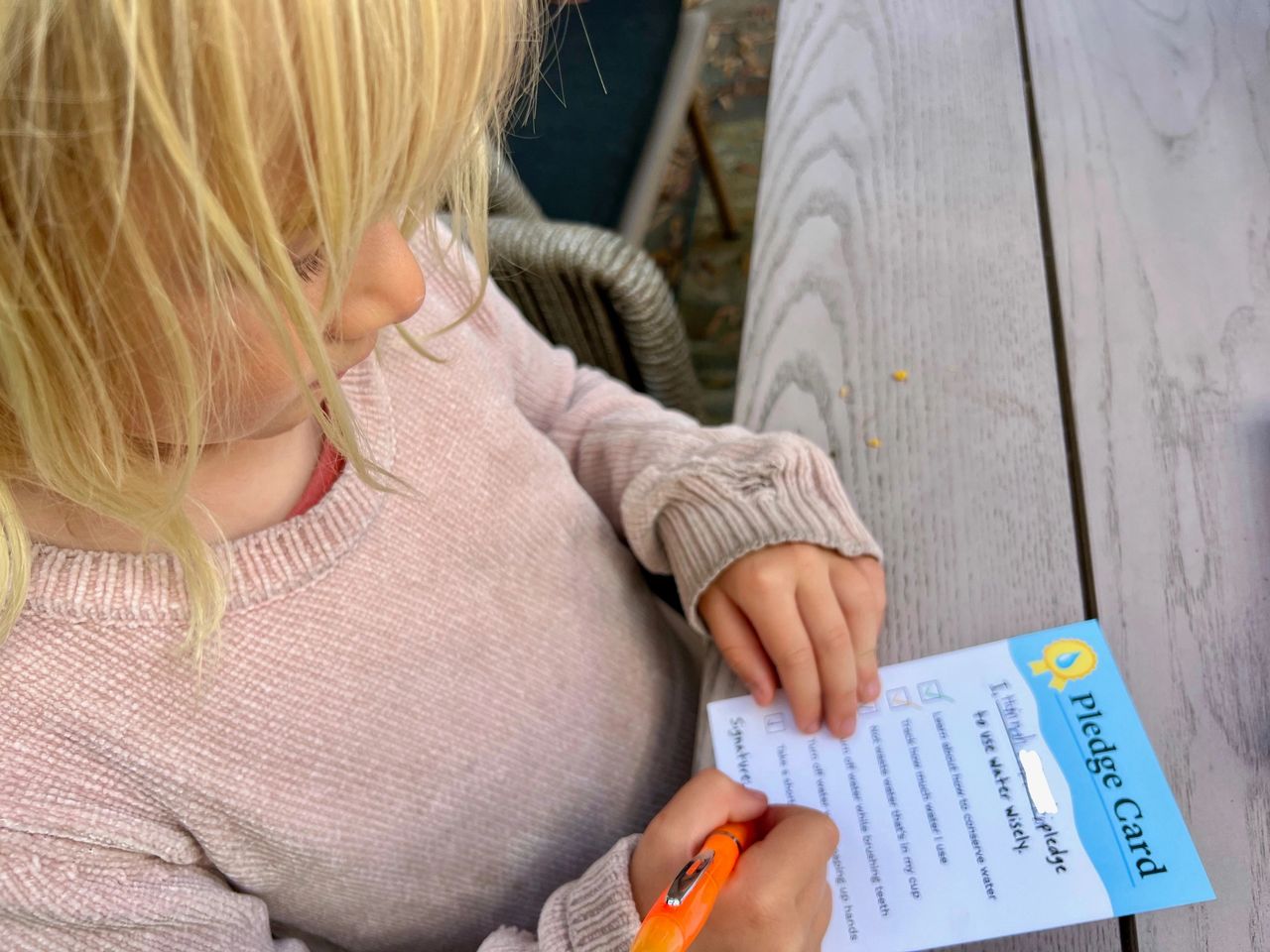 Consequently, Hannah signed this Pledge Card to promise to do better. Hopefully she keeps us all in line! The kit also included a handy little egg timer to use when we brush our teeth or shower, so that may help us. 
All in all, this was a great project and I'm hoping that Hannah learned a little bit about how important water is to the world, and how we can help conserve it. It was nice to know that $5 from our purchase went to Alltruists' nonprofit partner, charity: water to help build a new well in Malawi.
To find out more or buy this kit, go to Alltruists.com. 
Note: I promise, we do not work for Alltruists, nor did we receive a box for free.  We just think it's a great company and love their mission.